Alpha Platform
The World's Fastest Trading Platform.
Guaranteed.
Keeping pace with the growing complexity of today's financial markets and increased demands on trading infrastructure is no easy task. Increasing data volumes, faster speeds and dynamic markets add to the time, expense and complexity of maintaining a high-performance trading platform and infrastructure. Apcela helps solve for this challenge, operating the AlphaPlatform, the market's most agile, scalable and cost-effective low latency trading platforms.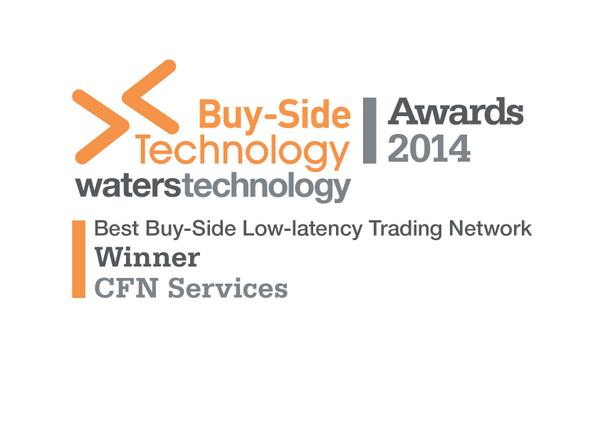 Alpha Trading Platform Solution Overview
Accelerating Trading Performance
Apcela's trading platform, the Alpha Platform is a high-performance platform for electronic trading across key global liquidity venues supporting equities, options, futures, fixed income, and FX asset classes.
The infrastructure at the foundation of the Alpha Platform provides accelerated, ultra-low latency market data delivery and trade execution for some of the world's most sophisticated high frequency trading firms – yet is flexible enough to meet the demands of strategies and services that are less latency-sensitive.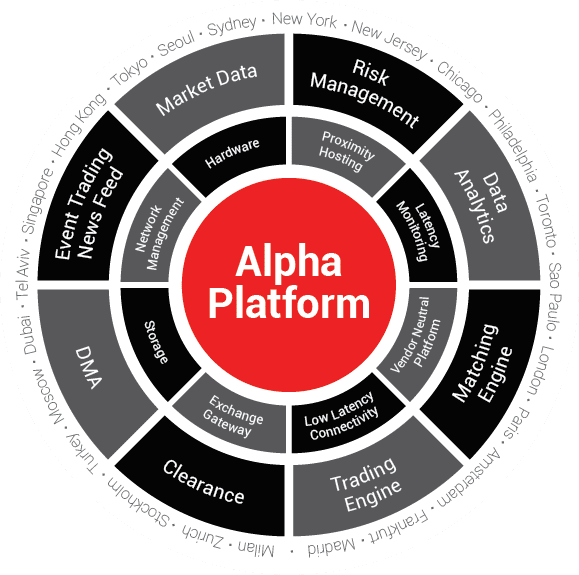 Low Latency Direct Connectivity
The Fastest Connectivity Across Trading Venues Worldwide
Ultra-low and low latency fiber and wireless networks connecting market participants, service providers, financial exchanges and liquidity venues worldwide provide the foundation of the Alpha Platform. With our global reach, you can more easily connect to more than 70 financial data centers and exchange locations across North and South America, Asia and Europe. Leveraging our fully integrated trading platform allows you to customize solutions and support a range of latency, route, bandwidth and diversity options across markets, asset classes and geographies.
Resources:
Learn more
Highlights:
Fully managed, lowest-latency fiber and microwave network platform
Optimized, fault-tolerant mesh network topology with resilient, redundant interconnections across all Alpha Platform data centers worldwide
Global presence with 24/7 dedicated NOC support
Robust and scalable low latency, high capacity network solutions

1/10/40GbE fiber
1/10/50/100 Mbs wireless (microwave and millimeter wave)
Ultra-low latency wireless integrated in the platform
Flexible managed services model to cost-effectively transmit market data and signal trades at wireless speeds
Multiple diverse RF paths between New York and Chicago data centers for primary and diverse options, at speeds 30%-40% faster than fiber
Competitive price points at a fraction of prevailing market rates
Real-Time UltraFast™ Market Data
Market Data Solutions Delivered at the Lowest Latencies. Where and How You Need It.
With UltraFast™ Market Data, the transmission of real-time, native format market and event data is accelerated over the Alpha Platform to support greater message volumes, more depth and breadth of coverage, at the lowest latencies in the market. Our fully integrated trading platform allows you to accelerate market data directly into your trading infrastructure at the service levels and locations you need. You'll have full market visibility with the ability to receive data at liquidity venues, proximity locations, and strategic data centers worldwide. With our global lowest-latency distribution of native feeds, you have the added flexibility to normalize data with any proprietary feed handlers or ticker plant technologies at the destination, at wire speed.
Resources:
Learn More
Highlights:
Accelerate your trading strategies with UltraFast Market Data Solutions
Full-depth native format and consolidated feeds delivered over an optimized, low latency, fault-tolerant network mesh
Access and normalize market data via a range of ticker plant technologies at major data centers across the US, Canada, London, Frankfurt, Tokyo and Singapore
High-performance market data platform for the fastest distribution of raw native format market data globally
Broad datasets and deep coverage with access to over 100 feeds across all asset classes
UltraFast Market Data over Wireless
With speeds obsoleting fiber, microwave networks are now becoming the standard for real-time market data. UltraFast Market Data over microwave accelerates market data between New York and Chicago at wireless speeds as fast as 8.6ms. Flexible managed services solutions broaden access to the fastest market data at a fraction of prevailing market rates.
Robust:
Co-located infrastructure at four strategic data centers in NJ and IL
Diverse set of market data feeds supporting equities, options, futures, fixed income and FX asset classes
Full depth of book in native format
Resilient:
Data redundancy with fiber network
Market-leading wireless infrastructure integrated into CFN's global Alpha Platform
Fair, equal and secure data access with guaranteed throughput
Direct Market Access
Single Point of Access to the Global Financial Markets
Simplify lowest-latency direct market access and ensure best order routing and trade execution with a more efficient approach to market access infrastructure. The Alpha Platform provides a single point of access to the global financial markets, enabling you to significantly reduce your market access and market data costs, decrease data infrastructure and operational complexity, and maintain high performance. With lowest-latency direct connectivity and integrated access to exchange gateways, matching engines and data feeds across leading venues worldwide, you'll reduce infrastructure complexity and costs, while maintaining leading performance.
Learn More
Highlights:
Further accelerate your trading performance with Alpha Platform Direct Connect™ – a high-performance managed market access and market data solution that reduces the cost and complexity of market access infrastructure with direct market access integrated with raw, full depth-of-book market data from the world's leading exchanges.
A & B Market Access / Market Data Feeds
Arista 7150 Switching
Managed Proximity Hosting
You'll Always Be Closer to the Trade
Be closer to the trade with managed proximity hosting within liquidity venues and financial data centers across the Alpha Platform's global footprint. Deploy next to market data sources, matching engines and exchange gateways, and easily integrate your infrastructure with the fastest interconnection available over our open technology platform. We provide a fully managed service environment and rapid deployment of turnkey and custom solutions. Our global network of neutral data centers also extends your reach beyond the financial markets, providing a high performance gateway to advanced cloud services and third-party solutions.
Learn More
Highlights:
High density racks in private cages across more than 70 financial data centers and proximity locations worldwide
Virtual colocation, distributable across any Alpha Platform site
Power ratable and upgradable across sites
High-Performance Cloud
Maintain High Performance from the Platform to the Cloud
With the Alpha Platform's global footprint and high-performance infrastructure connecting more than 70 strategic and financial data centers worldwide, you can more easily deploy, run and manage applications in the cloud and directly integrate these applications into your trading infrastructure.
Learn More
AppHUB for the Alpha Platform
Connect directly to AWS and other cloud services over secure, high-performance AppHUB™ gateways from within liquidity venues and financial data centers worldwide. Deliver real-time market data directly from the source to public or private cloud solutions. Leverage a robust IaaS platform to self-provision a secure and high-performance, virtualized infrastructure with Alpha Platform On-Demand™
Alpha Platform On-Demand
Available across exchanges, Alpha Platform On-Demand is a robust IaaS solution that provides markets participants the necessary computing power to run front- and back-office solutions ranging from OMS/EMS, risk management to market data management, backtesting, clearing and settlement. Firms can self-provision secure, enterprise-grade business applications on a virtualized infrastructure at performance levels previously achieved only through dedicated infrastructure and proprietary low-latency networks.
Improving Trading Performance and Profitability
Our Platform.
Your Trading Performance.
Simplify Complexity. Focus on Your Core Business
Eliminate the complexity of seeking best-in-class service through multiple providers. The Alpha Platform integrates best-of-breed technologies in a single platform. Your infrastructure is always maintained at optimal performance through continuous monitoring and technology refreshes, so you can focus on your core business.
Lowest-Latency Guarantee: Always Fastest.
Alpha Platform integrates ultra-low and low latency fiber and wireless connectivity, high performance infrastructure and advanced technologies to ensure the fastest market data delivery and trade execution. The platform's high-performance infrastructure is continually optimized to ensure the lowest latencies between venues and across its global platform. It's guaranteed to be the fastest connection available or we'll automatically upgrade your service.
Flexibility
Don't get locked into network and infrastructure solutions that cannot adapt to your changing business needs. With the Alpha Platform, not only do you achieve market-leading performance with real cost savings, but you can also easily change your infrastructure and services to adapt to dynamic market conditions and changes in your trading strategies.
Lower TCO
Leveraging a shared infrastructure platform lowers total cost of ownership and reduces time to market. With Alpha Platform, you'll get market-leading performance and leading edge technology at unparalleled value.
Trading Hub
Built on CFN's Alpha Platform, TradingHUB is fully integrated with our high-performance electronic trading platform, hosting best-of-breed, as well as proprietary, trading applications across every asset class in every global region.
Reduce Complexity and Cost
TradingHUB changes the way you do business. It's a next-generation solution that reduces complexity and costs – linking you directly to clients and counterparties, including more than 400 banks and brokers, exchanges and dark pools, services and applications.
Quick and Easy Access
TradingHUB provides quick and easy access to an ever-increasing range of service providers covering almost every aspect of wholesale financial services, from market data and pre-trade risk management to clearing and settlement, with the best in latency, reliability and security.
Ready to get started? So are we.