Apcela expands "data centers in the cloud" in Canada locations including Montreal and Calgary
Reston, VA, January 11, 2022. Apcela, a leading innovator in software-defined, cloud-optimized network services, is expanding the AppHub footprint in Canada to better serve the Northern America market. The proprietary AppHub, a virtual data center in the cloud, operates at the center of Apcela's solution.
In addition to the existing AppHub in Toronto, Apcela now has locations in Montreal and Calgary. These new locations will serve Apcela's already global footprint by providing additional routes and increased service capacity.
Apcela is not alone in increased attention in Canada. The leading Cloud Service Providers such as Google Cloud Provider (GCP), Amazon Web Services (AWS), Microsoft Azure, and Oracle OCI have been expanding into Canada as a part of a larger trend towards increased interest in the Northern American region. AWS in particular has plans to open an infrastructure region in Alberta, Canada in late 2023/early 2024. "Our infrastructure in Canada has allowed customers to transform the way businesses, educational institutions, and government agencies serve their stakeholders. With another AWS Region in Canada, customers will see even lower latency for emerging solutions like 5G-enabled applications and machine learning at the edge, and it will strengthen their ability to architect their regional infrastructure for even greater fault tolerance, resiliency, and availability," said Prasad Kalyanaraman, Vice President of Infrastructure Services at AWS. (1)
Equinix has also expanded into Canada – by acquiring 13 Bell Data Centers in Canada. "The deal solidifies Equinix's position as a leading digital infrastructure provider in Canada, enabling Canadian businesses, as well as multinationals with a presence in Canada, to leverage a trusted platform to bring together and interconnect the foundational infrastructure to power their success." (2) As a result, Apcela has strengthened its partnership with Equinix in order to serve joint use cases for Canadian customers.
Chad Arnold, Equinix's Senior Director of Sales in Canada, shares that "Apcela has proven themselves to be an incredible Equinix Partner around the world. We could not be more excited to see the unique expertise, capabilities, and agility that Apcela offers expand to further serve our Canadian clientele, from coast to coast. Our partnership with Apcela allows customers to get back to focusing on their core business by taking on the management of the complex networking and security required to achieve their digital transformation goals -on time & on budget."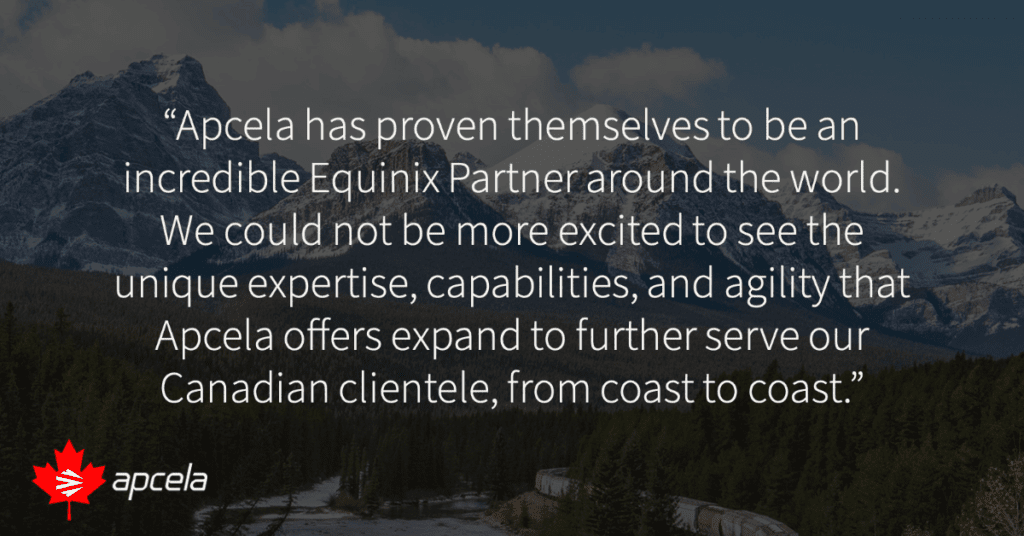 Why Canada? Canada is the third largest economy in the Americas, and the 10th largest in the world. Jason Bremner, Research Vice President, IDC, says "It is home to a thriving aggregation of multinational corporations that are seeking a clear and rapid migration path to digital transformation. We expect to see Canadian spending on digital transformation [increase] as companies look to accelerate their digital initiatives." (2)
"Expanding our global footprint will allow us to further assist enterprise customers in expanding their scope of the cloud optimized, distributed network and security deployments" says Apcela CEO Mark Casey. "By investing in additional AppHubs in Montreal and Calgary, we can assist our existing Toronto connections by providing additional routes."
Apcela's 60+ AppHubs globally provide a complete application delivery stack in the cloud and are located at carrier neutral cloud exchanges around the world. Starting with core switching, routing, and load balancing, Apcela can customize AppHubs to meet enterprise needs. This includes layering in SD-WAN, lifting and shifting a security solution to the cloud; and enabling edge compute and storage with a hyper-converged, private cloud. With the benefit of customers being in the same exchanges as major SaaS and IaaS services without establishing individual physical connections, the AppHub does the heavy lifting.
Casey continues, "The AppHub serves as the entry and exit ramp for Apcela's low-latency, global backbone, helping transform the enterprise WAN from a centralized and siloed IT architecture to a next-generation, cloud optimized network."
Apcela AppHubs work with the Arcus Platform to deliver a software-defined, cloud optimized network, including SASE and Multicloud. This allows the network to truly extend to the edge – rather than deployed natively in public cloud, which can be repetitive and cost-prohibitive.
About Apcela
Apcela provides software-defined, cloud optimized networks for the digitally transforming enterprise. Delivered as a service, we enable enterprises to easily deploy and operate a software-defined network and security architecture that was built for a multi-cloud world.
Connect with us on Twitter #GoFaster or LinkedIn.
About Equinix
Equinix, Inc. (Nasdaq: EQIX) connects the world's leading businesses to their customers, employees, and partners inside the most-interconnected data centers. In 52 markets across five continents, Equinix is where companies come together to realize new opportunities and accelerate their business, IT, and cloud strategies.
In a digital economy where enterprise business models are increasingly interdependent, interconnection is essential to success. Equinix operates the only global interconnection platform, sparking new opportunities that are only possible when companies come together.
Media Contact:
Hannah Swanson Carpenter
Apcela
703-798-6127